Known for its fascinating history, Zanzibar Island Tanzania is among the Islands in East African Coast where Arabs dominated and trades all over the world. Zanzibar Island in Africa was once the center of slave trade that has a negative perception when it comes to human rights.
Zanzibar is among the biggest Islands in the East African coast comprises of two main Islands Unguja and Pemba, Unguja being the largest with about 1,464 sq km while Pemba is about 686 sq km The name Zanzibar is derived from Arabic words 'Zinj el bar which means the Land of Black people. Unguja, Pemba and many other islets together are making the semi-autonomous part of the United Republic of Tanzania. Unguja Island is referred by many to be Zanzibar and in that case, all the time when travel to Unguja, we say we are going to Zanzibar. Stone Town is the capital of Zanzibar with its fascinating history.
Thinking of Zanzibar Island history and pictures of the very romantic past, white sails dhows in Indian ocean, swinging palms along the beautiful white sand beaches as the sun setting, ruin of the most historical buildings, women in black veils, the exotic spice plantations and the fascinating history of this Island, today, all these are reflecting in people's culture and traditions.
Zanzibar island offers from the white tropical sand beaches, spices, history and culture pattern of this cosmopolitan Island.  As a ground handling we are in a position of arranging various activities in this historical Island ranging from Spice plantation tours, Dolphin tours to the Southern beaches at Kizimkazi, walking culture tour at Jambian village, A visit to Jozani forest home to the Red Colubus monkeys, known in Swahili as the 'Kima Punju', Prison Island trip with an engine wooded dhow this can be combined with either Spice tour or Stone Town tour. A visit of the old town of Zanzibar "The Stone town" with its narrow lines and old buildings from Beit el Ajaib which means The House of Wonders, to Sultan Palace and many many more including the site of The former slave market at darajani. Please see our packages for Zanzibar & for Tanzania safari starting from Zanzibar, the packages can be customized to meet your preference, ideas & budget.
5 Days Zanzibar Beach Holidays Package
4 Days Serengeti Ngorongoro Crater flying safari
3 Days short Serengeti fly in Safari
Zanzibar Island tours can be arranged independently before your arrival to this island but can be the best tour when combined with Tanzania wildlife safari or Mountain climbing (Kilimanjaro) or both.
Tanzania Safari & Zanzibar Island Tours & Excursions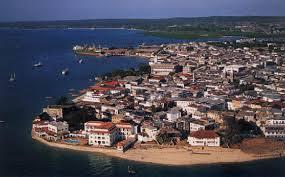 Stone Town Tour
Stone town is the oldest part of Zanzibar built in 95 acres peninsula consisting of 2,500 buildings all built with coral stones lime and clay, therefore the Name Stone Town. Among these buildings 45 were mosques' two Christian church, two Hindu halls and of course two huge baobab trees. But recently a lot of renovation has been done and some building has been changed from its origin. Stone town tour will take you to most of the famous and historical building such as the House of wonders built in 1883 saved as a ceremonial Palace for the third Sultan of Zanzibar Sultan Said Barghash bin Sultan. The tour will also take you to Sultan Palace used by most of sultan as a resident place from there you will visit the old fish Market which today saves as a general market, and then to the former slave market. There will be a walking along the narrow lines with shopping if you wish and to many other places of interest. The tour can take about 2 to three hours.    
Spice Tour
Spices Tour can be done in the morning or afternoon the tour include short drive and walking depending on where you are. Spice Tour is a visit to the spice farms  it is a walking tour were you can see, touch, taste and smell most of the spices grown on this island  ranging from cardamom, cinnamon, black paper, ginger, nutmeg, vanilla, turmeric and many more. The tour will also give you a chance to test most of the tropical fruits such as Jacky fruit, passion fruits, mangoes, papaya including the famous one durian local people call them hell and heaven fruit.  All the fruits will depend on the season. This tour takes about 3 to 4 hours and can be done from stone town hotel on the way to the beach hotel, depending on the time and your program of the day.
Prison Island Trip
This is a wooded engine boat trip to this island which formal intended to be a place for concealment of slaves. It takes about a half an hour to reach this island from stone town. The giant Aldabra Tortoises moved many years ago from the main island are one of the amazing attraction on the island, a short walk around ruins of the prison building and to the quarantine build used in the past during the outbreak of contagious disease such as cholera and yellow fever then around the island before going out for swimming or snorkeling in one of the nice coral around the island. Today there is a hotel and restaurant in this island where you can have lunch or some bites and drinks. It can be a half day visit or a full day visit.
Dolphin Tour
This is a full day tour with lunch. From stone town it is an hour driving to Kizimkazi area,  on arrival you will be provided with snorkeling equipment like masks and flippers and you will be shown a lunch menu and make a choose of what you would like to eat  before you sail to view and swim with dolphin. Dolphin tour started many years ago at this area which is part of Minei conservation area established to protect the marine lives including the dolphins. Species of dolphins found here are bottle nose dolphins, white dolphins and black dolphin. The dolphins have become friendly to people since the beginning and the tour has become an interesting one. People of Kizimkazi are really appreciating this program and  have a positive ideas on protection of marine lives  as it has been of much benefit to them since it has create a market for their local products and the dolphin activities has employed many people around the area.
Jozani Forest Tour
This is a half day tour to this forest which is home the erratic Red coloubus Monkey. After about 45 minutes driving from stone town you will start with registration and a short briefing before you go for a guided walk to the main forest to some indigenous trees, medicinal trees and other plants of interest. There after you will visit the Monkeys before fining with the Man groove body work area. The forest is mainly divided into three areas, the main forest, the Red coloubus section and the mangrove body work. You will have much information about this area from your guide.
Jambian Village Tour
This is a cultural tour which reflects to the daily lives of Zanzibar's on the countryside. It takes about an hour driving from stone town and with your local guide you will be walking around their small farms, to their houses and you will learn how they prepare most of their dishes especial with coconut milk. Then you will go to the beach where they grow see weeds along the beach. You will learn more about their cultural and their livelihood. You will have lunch and relax or swimming before you drive back to your lodge/hotel. Scuba Diving, Fishing, Snorkeling and Many more can easily be arranged on Request. Zanzibar Island beaches, history and people are unique don't miss your chance of visiting this wonderful Island.
Karibu Sana!