Mikumi National park Tanzania and other Southern Parks  are gaining  popularity due to its wildlife richness and remoteness, Udzungwa, Selous and Ruaha are among them. Basically, Safaris to the Southern Parks are starting from Dar es Salaam. Safari to Mikumi National Park from Dar es salaam can include the Parks of Udzungwa and Ruaha. See our Itinerary for affordable  5 Days Safari Mikumi & Udzungwa.
Mikumi National Park Location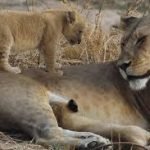 Mikumi National Park lies about 300 km West of Dare es Salaam and it is the nearest Park to the capital. The Park is relatively small with 3230 sq km and nestling between the Uluguru Mountains to the East and the Rift Valley to the Southwest. The Park is bordering the Great Selous Game Reserve allowing movement of animals and therefore Mikumi benefits from the highest game density of the entire conservation area while still being easily accessible. Primarily, Mikumi National Park is composed by the Mkata River flood plains; this is surrounded by gently rolling hills covered in Miombo woodland.
For some animals like Elephants, Buffaloes and Zebras forms a part of the Selous Game Reserve Ecosystem. Rarely, tree-climbing Lions can be spotted on the tree, Elands, Leopards, and African Wild-dogs can also be seen in this Park.
Compare to the most spectacular Tanzanian Park, Mikumi National Park is less famous but still offers a good safari experience with typical East African wildlife.
There is a rich diversity of bird species as well as a good population of giraffes, buffaloes and elephants and when getting close to the waterholes, lions, leopard and hippos can be seen. Furthermore you can see wild dogs, pythons, zebra, wildebeest, elephants, impala, warthog, eland and many other antelopes. Several observation towers can allow you to view the entire park.
Our Mikumi National Park packages are starting from Dar es Salaam and drive along Tanzam road ( Tanzania-Zambia road). The Park is an ideal place for a little breath out of crowd during your short visit in Dar es Salaam.
Best Time to Visit.
Mikumi National Park prices for single entry which has recently  introduced is $ 45 per adult and $ 15 for children above 5 years old up to 16. This Park can be visited throughout the year.