Climb Kilimanjaro is the best and affordable tour, this page is trying to give you some useful guidelines on route selection before attempting Kilimanjaro Mountain. Please go through guidelines and choose the best route to climb then, tell us when would you like to do the climbing.
What is the Best Route to Climb Kilimanjaro? Kilimanjaro Routes 2023 & 2024
Kilimanjaro National Park has established 6 official routes on Kilimanjaro, Marangu Route, Machame Route, Lemosho Route, Shira Route, Rongai and Umbwe Route. The southern part of the Mountain has three routes Umbwe, Machame and Marangu, Mweka route is only for descending. Rongai is the only Northern route, others are two sister's routes Lemosho and Shira approaching Kilimanjaro from the West. Please see the map bellow for Kilimanjaro climbing routes shown in three dimension and a nearby as approaches to the summit.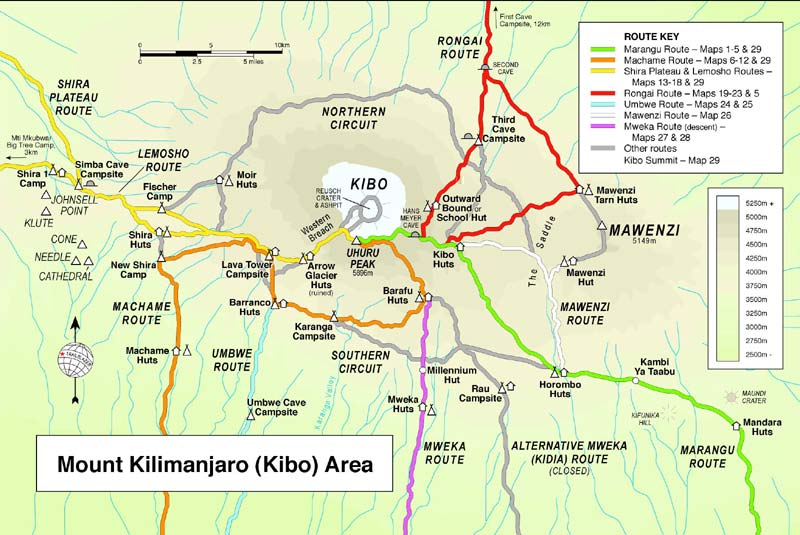 For Kilimanjaro climbing route selection is a dilemma. The following are best guidelines for route selection:- Route scenery and difficulties, acclimatization features and elevation as well as route traffic. Machame and Lemosho route give trekkers a chance to climb the Great Barranco Wall. See the below table.
| | | | | | | |
| --- | --- | --- | --- | --- | --- | --- |
| Kilimanjaro Route | Min.Days | Rec. Days | Difficulty | Scenery | Traffic | Rating |
| Marangu Route | 5 | 6 | medium | good | high | ** |
| Machame Route | 6 | 7 | high | excellent | high | *** |
| Lemosho Route | 6 | 8 | high | excellent | medium | **** |
| Shira Route | 6 | 7 | high | excellent | medium | *** |
| Rongai Route | 6 | 7 | medium | very good | low | **** |
| Umbwe Route | 5 | 7 | very high | very good | very low | ** |
---
Climb Kilimanjaro Marangu (Coca Cola route) **
Kilimanjaro climb – Marangu route 6 Days Itinerary & Prices
Kilimanjaro climb – Marangu route 5 Days Itinerary & Prices
"Named Coca-Cola route" Marangu route is considered to be the easiest route" just like to drink a Coca-Cola but the route has experience high failure rate due to pure preparation & untimely climb  with the regard of being easy. This is the oldest & common trekking route well established with huts like dormitory style accommodation. The route has gradual slope and it is always crowded in comparison with other routes.
The route can be trekked in 5 days but the chances of reaching to the top with that time frame is not very high, hence recommended an additional one day for acclimatization at Horombo.
Despite of its popularity, Marangu route is not much recommended because it has a least and not diversified scenery in regard to others, furthermore it is the same path in ascent and descent and it is much crowded in all the time. We do recommend Marangu during the rainy season where climbers can stay in huts accommodation and avoid camping in wet ground. All in all Marangu route takes you to the summit of Kilimanjaro Mountain. Please see our 5 days & 6 days itinerary.
---
Climb Kilimanjaro Machame ("Whiskey") Route ***
Kilimanjaro climb – Machame Route 7 Days Itinerary & Prices
Kilimanjaro climb – Machame route 6 Days Itinerary & prices
Called "Whiskey" route, Machame route has become number one (crowed) route among trekkers in comparison with Marangu, the route is steeper and days of climbing are longer. This route is thought to be tough and it is appropriate for those who seek more adventurous and experience. Hiking experience and physical fitness does matter when taking this route. The route is endowed with beautiful scenery varied as you go up, however, its splendor is somehow loses when there is heavy crowd.
This route takes a minimum number of 6 days but we may recommend 7 days.
---
Climb Kilimanjaro Lemosho Route ****
Please See the Itinerary: Kilimanjaro climb – Lemosho Route 7 Days Itinerary & Prices
Please see the Itinerary: Climb Kilimanjaro – 8 Days Lemosho Route Itinerary & Prices
This is a new route on this mountain starts in the west side of the Mountain basically, the route interconnecting Shira plateau just like Machame route, from shira plateau the route crosses Shira ridge and then goes to Shira camp. Climbers meet fewer people until this route reach its junction with Machame route. Then Lemosho treks in same trial up to Lava Tower, Barranco and Barafu called Southern circuit
Climbing on this route for 6 days, 7 days or 8 days can be perfect.
Among routes of Kilimanjaro Lemosho has revealed to be the best and beautiful route of all (but a bit harder), furnished with great views of almost all sides of Kilimanjaro Mountain. The route has medium traffic, great view and the rate of attain the summit is high hence being favorite to many. We highly recommend this route and we have a good number of clients who trekking on Lemosho route.
---
Kilimanjaro Climbing Shira Route ***
Apart from Lemosho route Shira also is on the west side of the mountain, these two routes are almost identical due to the fact that Lemosho is the correction of Shira route.  Shira was the original route dodges the walk to Shira camp and instead drives climbers to Shira gate whilst Lemosho route begins at Londorossi gate and walk along the rain forest to shira 1 camp. Trekkers starts their first day on Kilimanjaro Mountain by hiking up to 11,800 feet (3,600 m) and the first night usually spent at the same altitude at Simba Camp. From there the route joins Lemosho route and tracking by the southern circuit route.
Despite of its diversified landscape and beaut Shira's starting point is at a high altitude that is why Lemosho is mostly recommended. The first day of trekking on this route, climbers can possibly experiencing symptoms associated with high altitude as their body have fail to acclimatize, self-assured of ability to easy acclimatize has to be experienced by climbers using Shira route.
---
Climb Kilimanjaro Rongai Route ****
Please See the itinerary: Kilimanjaro climb – Rongai Route 6 Days Itinerary & Prices
Rongai route is emanating from the Northern side of Kilimanjaro Mountain near Kenyan border, this is the only route on the northern part and it is an alternative route for climbers who want to avoid the crowding Marangu route and who prefer hiking along the remote areas, The route has less crowd and it is  becoming popular. This is an ideal route for climbers who climb Kilimanjaro during the rainy season as it reserves less precipitation throughout the year.
Rongai route trek require a minimum number of 6 days however, an addition of one day is recommended.
The route does not offer varieties of scenery as the western routes but its remoteness and wild in- between before union Marangu route and Kibo Camp is compensating that. Rongai route is reasonably tough but recommended greatly particularly by less back packing experience.
---
Climb Kilimanjaro Umbwe Route **
Umbwe route is the most inspiring and difficult route of all when it comes to Kilimanjaro climb, the route is more direct, steep and short. The route does not offer basic steps for altitude adaptation due to its fast ascending. You can experience a very low traffic in this route and the chance of reaching to the top is also low.
Minimal climbing days via this route is six, yet the seventh day is recommended for those who opt to use this route
---
The Western Breach route and Crater Camp – is not in use
Uhuru peak can as well be climbed from the west side, named Western Breach.
Ascent 2,800 ft (850 m) in vigorous Western Breach of about 1.25 miles (2 km) this a scrambling as one needs to us both hands and feet in some points. The path is gorgeous but challenging as one has to pass through the rocky in a steep slope. The route was popular among climbers climbing by Machame, Shira, Lemosho and Umbwe routes until an incident of falling rocks happened in January 2006 killed three climbers. The response of KINAPA on this was to close the Western Breach reute. However, Western Breach was re-opening in 2007, but the route is unpopular among Kilimanjaro tour operators and is thought to be unsafe.
Kibo's Crater is close to Uhuru peak and it is known as Reutsch Crater 19,140 ft (5800 m) is the only left glaciers at Mount Kilimanjaro. The crater is superb and nearly circular with the ash pit measures a depth of 400 ft (120 m) and a width of 1,300 ft (400 m). Crater camp or rather a campsite is located here at 18,800 feet (5,750 m) some climbers spend a night here before attempting the summit. Sleeping in such high altitude is a risk especially when altitude acclimatization is not full experienced, severe AMS can develop. We mostly don't recommend an overnight stay at the Crater camp for the safety of our clients and staff.
---
Mount Meru Trekking
Mount Meru stands at 14,980 ft. (4565 m) above the sea level, 50 miles West of Mount Kilimanjaro, though its volcanic cone is often flouted but it is still a remarkable volcano. Mount Meru serves as altitude acclimatization and a warm up for Kilimanjaro climbers. You can possibly climb Kilimanjaro with fewer numbers of days after attempting Mt. Meru. On Meru Mountain a good number of wildlife can be seen contrary to its counterpart Kilimanjaro.
---
Climb Kilimanjaro, Safari and Zanzibar Beach Extension
Tanzania is a mecca when it comes to game viewing safari. Coming all the way to Tanzania and not engaging to any of Tanzania's wildlife safari is something you have think twice. Today most people book their Tanzania safari after Kilimanjaro trek & relax while enjoying Tanzania's diversified wildlife safari. Sometimes they go straight to our exotic Islands of Zanzibar for beach vacation or do both safari and Zanzibar beach holidays. At Back to Africa Safaris we offer a wide range of wildlife safari in Tanzania in a very professionally way and at affordable prices.
After your Kilimanjaro climbing tours, we will be glad to extend your stay in Tanzania by offering you a memorable Tanzania wildlife safari or Zanzibar beach holidays. Karibu Sana!