Mt Kilimanjaro is in Tanzania East Africa bordered Kenya on the Northwest. The Mountain lies about 325 kilometers from the Equator therefore enjoying  a nice weather and amazing vegetation that change with altitude as you climb higher and higher. Simply, it is beautiful and makes you climbing tour easier, enjoyable and stress free. We offer special Kilimanjaro climb & safari packages to all our Northern Tanzania park, some of our packages are combining Zanzibar beach holidays, cost for this tour is affordable.
The origin of the name Kilimanjaro is certainly not known but a number of theories exist. In Swahili point of view Kilima means Mountain and Njaro in ancient Swahili is shinning, so they possibly meant a shining Mountain due to its white snow.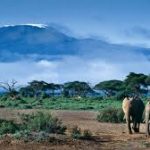 Mt Kilimanjaro Tanzania is the highest volcanic Mountain in Africa and the tallest free standing Mountain in the World. This Mountain has three distinctive volcanic cones,  Kibo, Mawenzi and Shira each of them differs in height and size, Kibo is the largest one at 5895m (19341ft), followed by Mawenzi at the height of  5,149 m (16,893 ft) and the last one is Shira at the height of 3,962 m (13,000 ft). Uhuru Peak is the highest summit on Kibo's crater rim at 5895m above the sea level. Mawenzi and Shira are extinct volcanically while Kibo's volcano is dormant and can erupt again its major eruption was between 150,000 to 20, 000 years ago. Reaching the summit does not require a special mountain skills and a sound degree of fitness but someone who is fit physically and with lately body exercise can make it to the top.
Mt Kilimanjaro Climbing Tanzania Safari & Zanzibar Beach

Sample itinerary :-
18 Days Kilimanjaro Safari and Zanzibar Beach
12 Days Kilimanjaro & Short Safari
10 Days Budget Tanzania Lodge Safari & Zanzibar
10 Days Tanzania Camping Safari & Zanzibar
Tanzania Safari Combine Zanzibar Beach Holidays 10 Days
15 Days Tanzania Safari & Zanzibar Beach Combined
Machame Route 7 Days Itinerary with Prices
7 Days Lemosho Route Itinerary & Prices
Rongai Route 6 Days Itinerary & Prices
Marangu Route 5 Days Itinerary & Prices
The first man to attempt this Mountain was Hans Mayer a Germany Jurist and Social Researcher who firstly climbed Kilimanjaro in 1889 lead by a Chagga local guide Yohana Lauwo and his team. Today, the urge of climbing Kilimanjaro Mountain is still alive and Tanzania is now the Africa's top destination.
Presently, six official Trekking routes are applicable for ascending Kilimanjaro Mountain; the routes are Rongai, Shira, Lemosho, Machame, Marangu and Umbwe each route with its special scenery and wildlife.  Machame route is believed to be the most beautiful one and steeper, mostly done in 6 or 7 days. Rongai is less scenic and has been marked as an easiest route of all, and the accommodation in this route is camping.  Marangu has same route for ascending and descending. It is the popular route at present but it is crowded as it offers huts accommodation that has to be shared by all climbers, the route is said to be fairly easy in comparison with other routes.
Accommodation
Accommodation during Kilimanjaro climbing tour is mostly camping with exception of Marangu route which offers a Mountain banker house known as huts, but regardless of where you stay does not certainly make it easy or hard to climb as each route has its level of strains. We always recommend the best route one can take in regard to experiences, physical fitness and age.
Mt Kilimanjaro Tanzania gains its popularity during the exploration time of African Continent by the Europeans and one prominent explorer who marked Kilimanjaro with admiration was Hemmingway. Later a German born Hans Mayer who became the first European to climb Kilimanjaro.
But whether a number of other local people had ascended this mountain before is still unknown. Apart from the past information today, Kilimanjaro Mountain is well-known worldwide and is the Tanzania's hardest Mountain to climb. People from all over the world come to Tanzania to climb the Mountain and sometime doing both climb and our Tanzania wildlife safaris or Zanzibar beach holidays or both.
Our Kilimanjaro Climbing Tours takes you all the way to uhuru peak the summit of Kilimanjaro, just choose the route from Marangu route (coca-cola route), Machame (Whisky route), Lemosho, Umbwe  &  Rongai route.
We now have an overwhelming demand from our customers who combine Mt.Kilimanjaro climbing tours and Tanzania safaris being long or short safaris or Kilimanjaro climbing and Zanzibar beach holidays and sometime both.

You first step to climb the highest point in Africa Mt Kilimanjaro Tanzania is to brows in our Climbs & Treks to choose the route and the itinerary then contact   our experts who are always there to make your dream comes true.