5 Days Zanzibar beach holidays package will reflect to the beautiful past of this Island. The exotic spice plantation, The ruins, dhows, coconut palms swinging along the white sand beaches & the fascinating history from the days of Portuguese, Oman Arabs & others, all these will make your trip to Zanzibar as rewarding as it should.
Please note: Our 5 Days Zanzibar beach holidays package can be modified, changed in accommodation & tours to meet your budget & ideas. It is also possible to include our best Tanzania wildlife safari, let us know your preferences. Asante Sana!
The Highlights of 5 Days Zanzibar Beach Holidays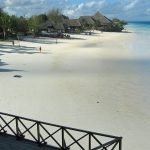 Visit the most prominent Islands in East African cost (Zanzibar) with its great history which bringing together the fascinating past & present of Zanzibari's.
Visit the oldest part of Zanzibar Island "The Stone town" with its ruins left by Portuguese & Oman Arabs. The tour will include visiting of The house of wonder, The Arab Fort, Sultan Palace, The bustling fish Market at Darajani, The site of former slave Market at Mkunazini & many more like shopping & walking along the narrow lines in Stone town.
Swim with Dolphins at Kizimkazi including beautiful snorkeling at Menai Bay Marine Reserve on the southern part of Zanzibar Island.
Visit the Jozani forest with its endemic species of red colubus monkeys & the mangrove body work
Sail to Prison Island for more snorkeling at beautiful corals & visit the breeding site of the Giant Aldabra tortoise which will include a short walk around the island to see some historical buildings.
Drive to one of the famous beach on the island (Matemwe beach) for beach relaxation.
Trip Style – comfort & private from the pickup time to the drop off, the driving will be in a private car/bus. Professional well experience local guide will always be with you during the tours.
Itinerary for 5 Days Zanzibar Beach Holidays Tours & Excursions
Zanzibar Island Tours & Excursion
Day 1: Arrival at Zanzibar Airport/Seaport
Distance: 2/1 km
Time: About 15/ 7 minutes
On arrival at Zanzibar airport/Seaport (morning arrival) meet our representative & drive to Tembo House Hotel located at the front part of Zanzibar Stone town near Forodhani Garden (the night market).
Check in at Tembo House hotel in Stone town, lunch (own account) after lunch and little rest a guided stone town tour. See Zanzibar Island tours. The tour will end up at African house hotel a popular place for sunset watchers. Then back to your hotel, 5 minutes walk from African house hotel.
Overnight at Tembo House hotel in Stone town. Breakfast Included.
Bed & breakfast option will give you chance to test different Zanzibar dishes at different restaurant in stone town like Mercury's restaurant, Monsoon restaurant, Emerson's & green restaurant with special atmosphere  etc.
Day 2: Dolphin & Jozani Forest Tour
Distance: 55 km
Time: about 1:15 hrs.
On this day after breakfast at your hotel as early as 08:00 to 08:30 you will depart for Dolphin tour at Kizimkazi & Jozani forest visit on the way back. Dolphin tour is conducted at Minai bay Marine reserve. See Zanzibar Island tours. Your guide will organize everything for you.
Swimming with dolphin & snorkeling at beautiful Minai bay Marine reserve is part of your program. Snorkeling gears are available at the starting point for those who will need them, mostly is mask & flippers (please talk to your Guide). Lunch is included therefore, at the starting point please press your order before starting the tour.
On your way back possibly at 15:00 hrs. You will visit the Jozani forest where the endemic species of red coloubus monkeys are inhabit. See Zanzibar Island tours. After Jozani forest visit you will drive back to Tembo House Hotel in Stone town for overnight.
Overnight at Tembo House Hotel in Stone town. Breakfast included.
Day 3: Boat Trip to Prison Island – Matemwe Beach
Time: 30 Minutes
After breakfast at your hotel as early as 09:00 hrs. You will depart for Prison Island with a traditional engine wooded dhow (if you will go out for snorkeling please hire snorkeling gears from the boat man before leaving Stone town). Prison Island is once intended to be used as a place for concealment of slaves during the slave trade in East & Central Africa. The Island sometimes served as the quarantine during the outbreak of contagious diseases such as cholera & yellow fever. Today the Island is a breading site for some rare species of Giant Aldabra tortoises. See more at Zanzibar Island tours.
You may have lunch there (own account) before sailing back to Stone town & to Tembo house hotel. Late afternoon drive to Matemwe beach (distance 55 km. Time 1:15 hours. Check in at Sunshine Hotel Zanzibar, leisure time until dinner.
Overnight at Sunshine Hotel Zanzibar in the speckling white sand beaches of Matemwe on the Northeast coast of Zanzibar Island. Dinner & breakfast included.
 Day 4: Day at Leisure in Matemwe Beach
This is a day at leisure where you can swim in the warm Indian Ocean. If you wish you can walk from the beach to the reef which starts from South to North of the Island on the Eastern beach of Zanzibar Island, you can as well organize (with the hotel) from scuba diving at Mnemba Island or deep see fishing with local fishermen.
Overnight at Sunshine Hotel Zanzibar in Matemwe beach. Dinner & breakfast included .
Day 5: Transfer to Zanzibar airport
After breakfast, depending on your flight time you will have a transfer to Zanzibar airport to catch your flight back home.
End of the Service!
All accommodation subjected to availability.
Package Prices is on request.
Please let us know the number of people traveling with you (group Size). Thank you!
Included:-
All transfers in Zanzibar
Flight Arusha – Zanzibar
All activity in Zanzibar as per itinerary
2 night accommodation at Tembo House Hotel in Stone town on BB (Deluxe room (see front balcony)
2 night accommodation at Sunshine hotel Zanzibar on HB (Sunshine suite rooms)
All entry fees during the excursions/tours as per itinerary.
Value added tax by Tanzania government VAT.
Excluded:-
All international flights
Item of a person nature
Travel insurance if applicable
Beverage & drinks
Tips/ Gratitude for guides & hotel staff
Other activities not mentioned in the program.
Join us again for a breathtaking 5 Days Zanzibar beach Holidays. Karibu Sana!