Ngorongoro Sopa Logde is part of a big chain of Lodges in East Africa called Sopa Lodges. Ngorongoro Sopa Lodge Arusha Tanzania is at the edge of the Crater Rim that appears 600 meters above the Crater floor. The high wall was  formed after a collapsed volcano some millions of years ago at Ngorongoro Conservation Area Authority.
Presenting African style, funnel shaped rooftops and tradition Africa's rich embroidered artwork of creative rich woodcarving and models, the Lodge synchronizes impeccably with its emotional surroundings.
Ngorongoro Sopa Lodge  Best Tanzania Lodge Safari.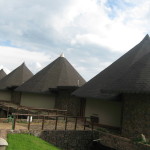 Location & Facility.
This Lodge  is at Ngorongoro Crater in Tanzania, about 4 and a half hours from Arusha City & almost 1 and a half hours from Lake Manyara Airstrip. Recommended Nights- 1 to 2.
Some of the facilities available are Outdoor Dining, A Swimming Pool with crater views, Laundry services, WiFi services in Public Areas, Outdoor Dinning & Bar, Conference room, Gift shop and others.
Rooms.
Ngorongoro Sopa Lodge Tanzania has 96 rooms situated in vast two-story rondavels, separate from the principle building. There are four rooms in every rondavel, two ground floor and two upstairs, each with views over the crater. The rooms are open, spotlessly clean and have a huge en-suite restroom. All are semi-roundabout fit as a fiddle and entered by means of a hall outfitted with a cabinet and a writing desk, and in addition a minibar which is filled on request. All rooms are carpeted and have two king sized beds, a dressing table, stool and hairdryer. There is even focal warming – essential up on the Ngorongoro highlands which can get exceptionally chilly in some months because of its elevation. A glass-encased balcony, with two recliners, has staggering perspectives over the crater, few rooms are inter-leading and are perfect for families voyaging together.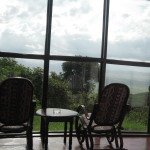 Activities.
Game drives at the Crater floor and walking safaris at the Crater rim, Embakai and Olmoti Crater are some of the activities offered when staying at this Lodge. All walking are guided by an armed ranger to ensure safety.
For your luxury stay and maximum enjoyment During your Tanzania Safari Ngorongoro Sopa Lodge is the best option.
Social Share