Mapito Tented Camp is located on Northern Serengeti just outside Ikoma gate at Rubanda area.This is an exceptional Tented Camp as it not only offers accommodation but it also an ideal place for the Great Wildebeest Migration game viewing during the month of July. Mapito is a Swahili word & it merely mean a path, the world phenomena wildebeest migration passes across Mapito Tented camp yearly on their way to the far North where they cross Mara River and Enter the Kenyan's Masai Mara.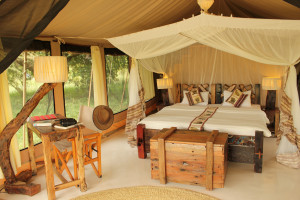 Mapito Tented Camp the best price Accommodation in Serengeti.
 Direction & Accessibility.
Mapito Tented Camp is placed on the Northern Serengeti Just outside the Ikoma gate at Rubanda village.The camp an be accessible by  flight where you land at Soronera Airstrip and drive 45 minutes to the camp other option is to land at Ikoma Airstrip and drive for about 40 minutes to the camp. Mapito can as well reachable by road from Arusha takes about 6 hours without game drive, Mwanza takes 5 to 6  hours and from Masai Mara in Kenya via Isebania Border northwest of Serengeti National Park it is only 3 to 4 hours.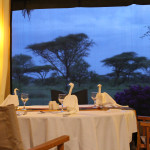 However, most of Northern Tanzania safari package that includes Serengeti and overnight at mapito Tented Camp are involving other parks like Tarangire, Lake Manyara & Ngorongoro Crater therefore reaching Mapito can involve short drive and mostly with en route game drives.
Facilities & Services
Mapito Tented Camp has 12 extensive tents with outdoors bathrooms, flush toilets, wash bowls, and hot showers from sun oriented tanks. You can pick between two twin beds or one extra large bed.
The whole tent is netted, so that, despite the fact that there are no bugs around, they are bug confirmation. Besides every bed has its own mosquito net. Lighting is by lamp oil lights and the solar energy.
Mapito Tented Camp restaurant is finished with candlelight, glasses, and a bar with lager and wine. New & fresh bread is prepared consistently and soups are produced using scratch with custom made stock. Access to Supplies of fresh products like fruits and vegetables are conveniently. Menus can be specially crafted around your top picks. South African Wines are plenty as well as soft drinks,beer and some liquor, and are actually chosen to compliment dinners.
Activities
Mapito Tented camp is erected in the wild of Ikoma field and it offers a luxurious staying in open tents, you can enjoy this area by a guided walking Safaris, night amusement drives and on game drives. The adjacent  Fort Ikoma and town can be visited for a cultural tour.
Social Share