Tanzania- Serengeti Balloon Safari is a breathtaking and a Lifetime Experience.
Tanzania-Serengeti balloon safari normally flies early in the morning over the Serengeti. Certainly, it is among the greatest and beautiful balloon flights in the world and undoubtedly one of the ultimate safari experiences. Booking a wildlife safari in northern Tanzania which includes some nights in the Serengeti National Park, you should consider adding on this very popular hot air balloon in Serengeti. 10 Days Wildebeest Migration Safari package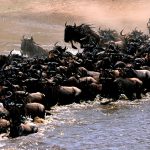 The woodlands and plains of Serengeti are reasonably famous for the density and mass of wildlife in the world. A unique Balloon Safari in Serengeti offers totally different perspective contrary to game viewing in a 4WD Land cruiser. Serengeti the world's most famous wildlife reserves provides this life's great memories as you seat on the Balloon and ascending elegantly up and above the plains of Serengeti. The ever changing skies are wonderful and the landscape is great.
No guarantee of which animals you will see from the balloon, but earlier flyers have seen some remarkable wildlife from up above, and viewed many amazing animal actions such as lion kills, cheetah hunts, leopard stalks and one of the natural wonders of the world 'The annual wildebeest migration in the Serengeti'(This depends on which months.)
Wildlife has priority and attention is given to them when flying. You shouldn't be disappointed.
Your safety is number one; the pilots are all dedicated conservationists and are eager to share their knowledge and experience of the area and wildlife.
________________________________________
Departures Schedule and Operating Period
The departure for the Serengeti Balloon Safari is daily, yearly around (if weather permitting), the' green season' months when mornings are frequently bright and sunny with a good breeze, it is an ideal days for ballooning).
Operating Period: Throughout the Year.
You must be in Serengeti to do this breathtaking Balloon safari. Normally is booked together with one of our safaris package that is reaching Serengeti.