Best time to climb Kilimanjaro Mountain "The Icon of Africa" is mostly during the driest months, for many traveller before booking their Kilimanjaro trekking tours their common question is when is the best time to climb Kilimanjaro? Mount Kilimanjaro can be climbed any time as the Mountain is proximity to equator with not much different weather between summer & winter. However, certainly months are considered to be much better than others.
Best Time to Climb Kilimanjaro
We more recommend driest months of January through early March & from June to October to be your best time to Climb Kilimanjaro the highest Mountain in African landmass.
The months of April & November are to be avoided as these are mainly the rain seasons therefore, trekking  during this time can be dangerous as the trial can be muddy & slippery.
When is the Best Time To Climb Kilimanjaro & What to Consider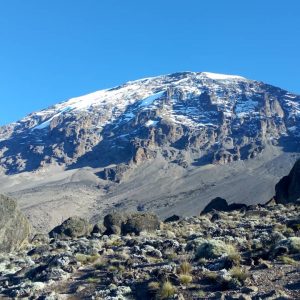 Weather Conditions – Mount Kilimanjaro is near Equator & does not experiencing the 4 season as per other party of the county & Africa at larger, it only has dry season & rainy season of which alter the entire complexion of the Mountain.
Therefore, the best time for climbing Mount Kilimanjaro is during dry seasons which are months of January to Early March & from June to October with great sunshine, clear skies & great views which is best for some spectacular pictures & above all for comfortable trekking. However, weather on Kilimanjaro is quite unpredictable regardless of the seasonality.
Temperature – Zonation & the seasons are the main factors which can determine temperature on Kilimanjaro Mountain. At Uhuru peak which is the actual summit of Mount Kilimanjaro is regarded as "Arctic" where the temperature goes below freezing point throughout the year. The coldest time on Kilimanjaro is usually December to March & June after the heavy rain season of April through May. At this months the number of visitors are low when compared to July & August. 
Long rains is from middle March through May while short rains is in November. April & November is where we can sometime expect heavy rain.
If you want to avoid crowed you can skip the months of July & August however, the route selected can be another factor & we can't be very much sure on this. it is very much possible to tailor a Kilimanjaro trekking package based on your ideas & preferences.
Below please look at our sample Affordable Kilimanjaro trekking packages
7 Days Machame Route Itinerary & Prices
7 Days Lemosho Route Itinerary & Prices
6 Days Machame Route Itinerary & Prices
6 Days Rongai Route Itinerary & Prices
6 Days Marangu Route Itinerary & Prices
Marangu Route 5 Days Itinerary & Prices
12 Days Kilimanjaro and Tanzania Safari
18 Days Kilimanjaro Tanzania Safari & Zanzibar
Please feel free to contact us for any clarifications, advice regarding our above packages. Our articles on when is the best time to climb Kilimanjaro is based on our long experience of organizing the best Kilimanjaro trekking tours at affordable cost. Karibu Sana!