Camping safaris Tanzania is a journey with well-organized itineraries that bringing together the most remarkable landscapes, peoples' norms and culture as well as the most thrilling wildlife, some of our affordable camping safari in Tanzania are combining Zanzibar beach holidays or Kilimanjaro climbing at reasonable prices.
Back to Africa Safaris offers Tanzania budget camping safari packages as well as luxury & budget Tanzania lodge safari packages to the most highlighted Tanzania wildlife areas. Apart from visiting National Parks, Game Reserves, Open areas in wild Africa, few of our camping safari adventures can take you to the very remote areas where the infrastructure is undeveloped.
Just imagine being around the campfire at the middle of nowhere in the plains of Serengeti, stars shining from the African sky as you zip one of your favorable Tanzanian beer after a delightful hot African dishes freshly prepared by your private safari chef.
Lion roaring from the distance, laughing hyenas in the darkness, insects whistling their tunes of the night, birds singing their sweet songs during your wake up call ready for another day in the wild Africa. Such scenarios and others are what Tanzania camping safaris are all about, if you are fond of such adventurous tours this is your chance.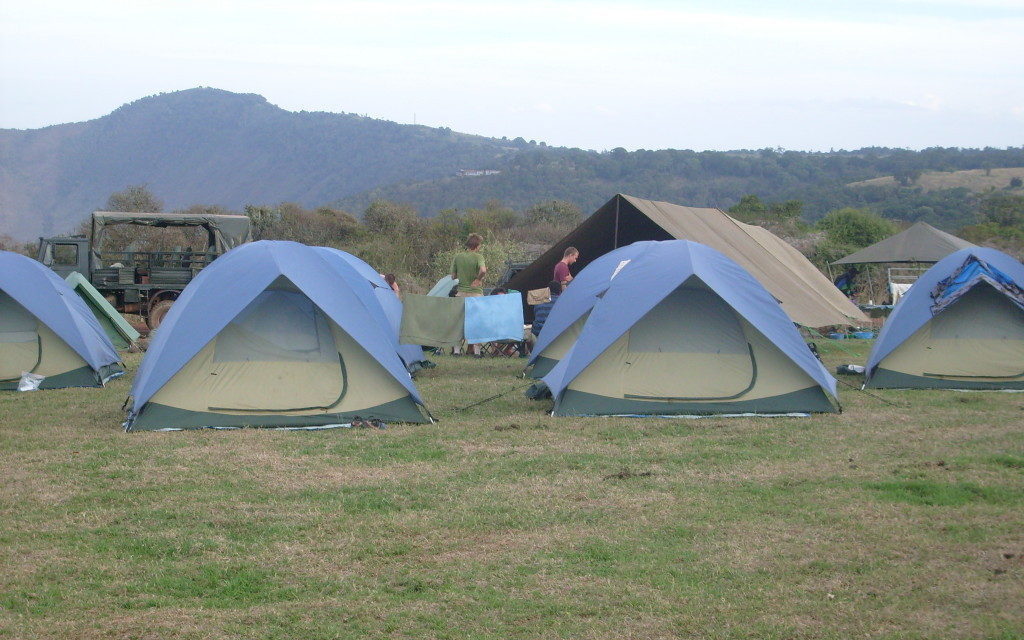 Budget Tanzania Camping Safaris
A safari is a journey. That is what the word means in Swahili, the language of East Africa. We mostly offer private Tanzania camping safaris therefore,organizing a safari into Africa with Back to Africa safaris, means you will have your own well maintained, clean 4 x 4 safari Land Cruiser with photographic roof thatch driven by a professional, well experienced local safari driver guide who will take you to the areas which will leave you breathless with wonder & excitement.
Meals will be prepared by a private chef who will also be responsible for pitching your tents so this is a stress free safari where you don't need to think about what to eat, where to sleep and so on, everything will be taken care of. All camping gears will be provided except sleeping bags which we mostly advice to bring it otherwise, you can rent in Arusha upon arrive at reasonable cost paid once for the whole trip.
Camping safaris Tanzania are more popular in Northern Tanzania than in the Southern. The Northern Tanzania safari circuit includes Serengeti National Park, Ngorongoro Crater, Lake Manyara and Tarangire National Parks as well as Arusha and Kilimanjaro National Parks. On the Southern circuit we have Nyerere National Park, Mikumi National Park, Ruaha National Park and Udzungwa Mountain National park.
Back to Africa safaris is your best Tour operator when it comes to camping safaris in Tanzania with assurance of safety, quality services at affordable prices. Our bellow safari itineraries can be customized or twisted to meet your budget, wishes and preferences.
Camping Safaris Tanzania Packages & Prices 2023/2024