Welcome to Planet lodge Arusha the best & affordable accommodation before and after your Kilimanjaro climb or Tanzania safari. The lodge is placed at the heart of Arusha City about 50 km from Kilimanjaro international airport &  15 km from Arusha airport. Planet lodge environment revels Tanzania's beautiful nature & landscapes, it's amazing African styled accommodation in well taken care of gardens offers unique sanctuary for people to relax while connected with nature.
Planet Lodge Location
Planet lodge is located along Nelson Mandela road at Moshono village in the suburb of Arusha City in Tanzania.
Rooms
The lodge has great non smoking 28 rooms, our rooms are large, well arranged, clean & comfortable to make your stay a stress free & enjoyable. Amenity in the room includes Air condition, TV Telephone, a desk with reading light, linen & a nice balcony facing gardens with beautiful flowers.
Other Facilities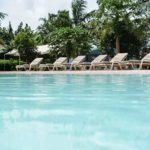 A conference facilities for business meeting, retreat or for team building activities is available with reasonable price. Restaurant with well trained Chefs who can prepare an appetizing local & international cuisine. We invite you to test nyama choma (beef barbecue), ugali /rice saved with fish, banana stewed and many more. Swimming pool & a bar with most of your favorite & local beers like Safari, Kilimanjaro & Serengeti. We simply say "Karibu Planet lodge Arusha".
Activities
Arusha city tour, day trips to Arusha National Park, Lake Manyara, Tarangire & Ngorongoro can be organized from this lodge. Cultural tour to various places in & around Arusha city is also possible.
We warmly welcome you at Planet lodge & your stay with us will always be appreciated. Karibu Sana!