Ngorongoro Rhino Lodge is named after the rare Black Rhino found at the Crater floor of Ngorongoro Conservation Area in Tanzania. This lodge  is among the series of Hotels & Lodges built along the Crater rim offers a stylish African accommodation.
 Location of Ngorongoro Rhino Lodge.
Ngorongoro Rhino Lodge is in Tanzania and it stands at about 2300 meters above the sea level allowing visitors to enjoying great atmosphere  while having a breathtaking views of the Crater floor which appears 600 meters below.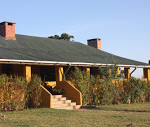 The lodge operates closely with the administration in the area Maasai, to make sure that the progression of the lodge benefits their livelihood. One of the amiable terms is to employ the majority from the native village both skilled and unskilled. Apart from that the lodge shares part of their financial gain with the local community Maasai.
Ngorongoro Rhino Lodge has a simple structure blended with the environment and since it is in Ngorongoro Conservation Area Authorities it runs in accordance to the rules and regulations imposed by the Authority. However, the lodge tries to meet the approach of multiple land use. It is comparatively spartan, but for the more adventurous holidaymaker, it is an exciting and economical place, furthermore it is closer to the Crater floor. Rhino Lodge is an ideal place for visitors who wish to explore the amazing Ngorongoro Crater, Serengeti plains and some parts of Ngorongoro highland.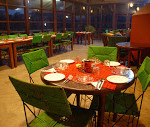 The Lodge has 24 en suite rooms, bar, dining room, and a convenient leaving space. The local staff mostly Maasai are hospitable and the food is great. Walking Safari at the Northern Crater Rim with an armed ranger is the popular  tour and can easily arranged by the lodge.
For more information and the best Ngorongoro Rhino Lodge rates please contact us and once you book  our Tanzania safaris and Zanzibar beach vacation make sure you stay in this Lodge.

Social Share