Mount Meru hotel at the base of Meru Mountain where the tourism capital of Arusha Tanzania is stretched. Mt. Meru hotel is directly facing Meru Mountain in the front and at its rare is Arusha Gymkhana Golf Course. Mount Meru hotel stands in a lush gardens of about 15 acres with vast numbers of flowers and trees of African species like Jacaranda and others flourished.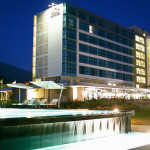 Mount Meru Hotel the best accommodation in Arusha.
Arusha being the Tourism capital for most of the Northern Tanzania safari and Kilimanjaro climbing tours as well as Mount Meru Trekking, Mount Meru Hotel is then standing as a convenient accommodation in Arusha prior and after safaris to the famous Northern Parks of Serengeti, Tarangire, Ngorongoro, Lake Manyara and Arusha National Park as well as Mountain Climbing tours.
Direction & Accessibility
Reaching Arusha is mostly by fly-in to Kilimanjaro International Airport or Arusha Airport followed by transfer to the hotel in town. The hotel is about 50 km from Kilimanjaro International Airport and about 10 km from Arusha Airport.
Hotel Features & Services
Mount Meru Hotel has a number of facilities like fitness center and outdoor Swimming pool, free access to the wireless internet. Business center with 5-star amenities including meeting rooms, 2 Restaurant, bars & lounge, Laundry services & dry cleaning just to mention few.
Rooms
178 Air conditioned rooms are available in this hotel, among them 108 are Standard rooms, 30 Standard Twin rooms, 22 are Executive rooms, Junior Family rooms are 2 and Junior Family Suites 2
Executive Suites are 6 while Presidential Suites are 4. The hotel has available 2 rooms for disable people (Paraplegic).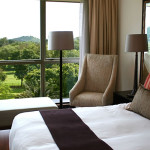 In-Room Facilities are:-
Satellite TV, Telephone, free WIFI services, Min bar, Air Conditioning Panels, Coffee & Tea Making facilities, Pay-Per-View Movies Electronic Safe.
For many years Mount Meru Hotel has served a starting & ending  point for most of our Tanzania safaris as well as Mountein climbing, Kilimanjaro and Meru Mountain. Mount Meru Hotel for your comfort and luxurious stays in Arusha
Social Share